lighting problem with ploymer: Sometimes the area will be brighter than it should be and/or posters will be lit up more than they should be.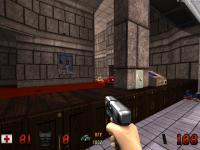 Here the lighting is normal with the lights off except those behind the counter which are on when you first enter.
Now the lights are on still normal.
But if the lights are off and I activate the cash register the poster is lit as though the lights were on.
Now if I turn the lights on first then activate the cash register the posters are lit up even more. To reset things to normal just turn off the lights.
However this same effect sometimes occurs on its own brightening up the whole area as though you had cranked up the gamma or something thus becoming the err... the base lighting. This can't be fixed by flipping a light switch. This may have something to do with Duke Plus I'm not sure if I have had it happen with out Duke Plus. Seems to me like ploymer and DP are conflicting with each other or something. Also notice the poster is dark as it should be.
edit:The lighting problem in the last screenshot does occur without Duke Plus.