Here's a weird bug that I noticed when playing through the level "Rabid Transit".
In the area where you use the blue key card to open the subway platform, I accidentally noticed that Duke's pants color (when kicking) switches from blue to green after passing over into the room with the destroyed staircase. This happens with all three rendering modes.
Here are some screenshots: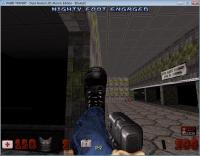 I don't know if this is a bug in the original game or something with EDuke32. I'm using the GRP & RTS files from a physical copy of the Atomic Edition if that helps.
Sorry if this has already been reported or is not a bug :/