Got a lot done on this one today. Before going in any further on the last few indoor locations I want to build, I'm trying to polish the map at street level and enclose the gameplay area outside, to make sure I won't run out of resources before the time comes. I'm actually pretty happy in that department for this one (less stressed out than for map 2), I still have roughly 5000 walls left and as every indoor addition will be mostly spritework at this point, so I'm feeling comfortable, even though I'm only done with maybe one third of the terrain I need to enclose. Still missing fine detail, cars and whatnot but getting closer to the intended look and feel. I also built a giant ass destructible building (well, only its structure so far, will add most effects last) with a connection to another area at the bottom, think E1L2 but bigger.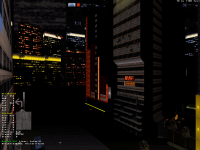 Part of the destruction scene:
And yo I heard you liked lights from a distance, so I put lights from a distance in your lights from a distance so you can light from a distance while you light from a distance.
(Reminder, visibility will be bumped eventually)