After discovering Doom mod Project Brutality, I loved how the game had variations of different enemies and made the game much more fun to play among its many features.
So for fun, I drew up my own variants of Duke Nukem 3d enemies. I hope one day there can be an awesome mod like Brutal Doom/Project Brutality for Duke 3d.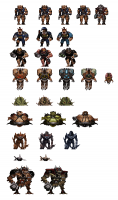 This is the only angle. Feel Free to use them. Just credit me. Also, I'm working on babe variants too!