So, today marks the 17th anniversary of the release of my first (and only one so far) user map for Duke 3D, Alex City 1: Bank Heist. About that time I started working on this episode, took a longer break from Duke community after finishing the first 3 maps, but now I'm back in business and it's about a time to release this thing! Here's 4 new levels for you to enjoy. They're all strongly mission-based, so the narrative/storyline is usually a bit deeper than "kill aliens, find a button, proceed". Make sure to read all the hints, viewscreens and mission briefings on your way! Some puzzles might feel a bit unintuitive after playing the game for 25 years, but it's all the build engine stuff - just try to interact with your environment by pressing "use" on it and you might be in for some nice surprise, especially in the 4th level!
This episode requires newer versions of EDuke32 to play. Works best with Polymost renderer (although Classic is also supported - just will look way uglier, so if you can run Polymost, then that's the recommended way). Please read the included ReadMe file for more information on installation and compatibility/requirements (and a lot of my additional babbling, including more elaborate description).
Story:
After fighting off the alien invasions one after another for a couple of years, Duke finally decided to settle down a bit and concentrate on his own business. As a successful entrepreneur, he founded a chain network of fast food restaurants, strip clubs, bars and casinos. Today marks the opening of his newest casino in Los Angeles, "The Lady Killer Casino". With everything ready and in place, Duke watched some porn on his laptop, took a sip of Martini with vodka (shaken, not stirred!), decided it tastes like shit after years of abusing Jack Daniels and fat-ass Cuban cigars, and poured the contents of his glass into the plant. "Cheers", sneered Duke, as the ground beneath the plant greedily drained every last drip of the alcohol. Duke looked at his watch and noticed it's quarter to 8 – that means 15 more minutes until the casino opens. Should be enough time for a quicky with the new croupier chick, Millie Perkins, who's been eyeballing him all the time during the opening preparations (while ostentatiously licking or sucking on her fingers whenever their eyes met). Before leaving his office, he made sure the pistol is safely stored in a hideout behind a painting – just in case if anything goes wrong…
Some screenshots: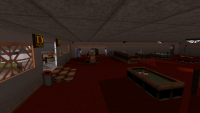 DOWNLOAD LINK: DOWNLOAD FROM GOOGLE DRIVE
Also, I have quite carefully chosen the music that would fit best each level, and I strongly recommend to play the levels with each of the provided tracks. However, if you REALLY don't like the music for some reason, here's an alternative USER.CON:

BACKINBUSINESS_ALTERNATIVE_MUSIC.zip
(10.98K)
Number of downloads: 213
Last but not least, enormous thank you to my beta-testers, especially to ck3D and Merlijn, without whose help it would be impossible to release this thing!
Hope you have fun! Any feedback or comments would be greatly appreciated!