Hello guys. As some of you might know, I'm working on a retro-3D game engine inspired by old Doom, Build and Unreal engines. The engine is sector-based like Build, but envisioned to have a slew of exciting features like multiple reflections, stacked walls, dynamic ligthing, all done in software to keep the authentic look and potentially free the GPU for other important tasks.
Some recent screenshots for introduction: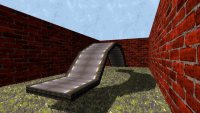 At this point, the engine can flawlessly import Build engine artwork and maps. But the results are totally static and unplayable, you can just fly around the levels the way similar to Mapster32 and enjoy the new effects, and nothing interactive beside basic editing functions made for testing. The idea is to recreate (reverse-engineer) Duke3D original gameplay inside my tech. It won't be a strict replication of original physics and object behavior, but one should be able to play all original levels normally. So far I'm having certain questions to Duke3D community. First of all, can (and how can) this be done and published as a commercial product? The rights on the engine itself should remain on my side. Also can I find any investors so I could do the necessary work? I'm noob at things like crowdfunding etc.