After finally figuring out how to make myself a bootable hard drive on a CD, I decided to put Duke Nukem 3D 1.3D shareware edition on the CD and take it for a spin after installing it using DOSBOX.
So anyways, I made the CD boot then copy everything to a 32MB ram drive. The target computer has at least 256MB of ram and should be able to access 64MB in DOS.
So I ran the setup program and configured the game as NO sound, standard 320 x 200 screen, then I go to save and launch the game. The first thing that comes up when returned to the command line (before the game executes) is:

Read fault error reading drive F
Abort, Retry, Ignore, Fail?

Yet the F drive is my ram drive that is built using xmsdsk.exe
So anyways, I decided to abort that, and typed in duke3d then it immediately crashes and shows an exception error (see attachment)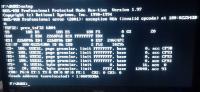 So anyway, I did have the setup utility intact, and when I ran the setup utility to install the files to a new folder on the same ram drive and ran setup from that location then duke nukem, the game decided to come on.
I'm wondering if something is wrong with DOSBOX
I mean in the end, I want to create a boot cd that can just launch Duke Nukem without having to run its installer every time, not crash the machine.