Food porn
#31
Posted 29 April 2020 - 10:56 AM
Chicken teriyaki with roasted sesameseeds and scallions. Wife was happy ;)
*chicken was cooked in a crockpot*

This post has been edited by Tekedon: 29 April 2020 - 10:58 AM
---
#32
Posted 30 April 2020 - 12:11 PM
*Looks at title*
*Says food porn*
HAHAHAHHAHAHAH
https://upload.wikimedia.org/wikipedia/en/thumb/f/f7/Sausage_Party_logo.png/220px-Sausage_Party_logo.png

Someone just had to do it!

---
#33
Posted 25 May 2020 - 05:51 PM
Classic Romanian lunch. Homemade bacon, tomatoes, and feta cheese. We buy the bacon from a farm every month. Can't use store bought bacon for this! ;)

https://i.imgur.com/uUuphZQ.jpg

---
#34
Posted 01 June 2020 - 12:12 PM
---
#35
Posted 01 June 2020 - 01:38 PM
Ears of corn are showing up in bulk at the store I usually shop at. So I bought some. Yesterday, even though I was staying home I made a typical "Sunday at the lake with friends" meal of Cheeseburger, 2 ears of corn, Bush's baked beans, and raspberry flavored Jello with sliced bananas in it for desert. Of course a nice cold beer to wash it down. The only things missing were the horseshoe pit ( who still plays that? ) and my hot girlfriend that loved having sex in the water. People watching us up on shore had no idea what was stirring beneath the waves. :)

There, food and porn. PM me for pics...just kidding

This post has been edited by Mark: 01 June 2020 - 01:40 PM
---
#36
Posted 10 July 2020 - 06:38 AM
Great news. My brother stopped by to pick up some tax forms and he brought with him a can of Split Pea Soup. He felt sorry for me that I haven't been able to find any in the stores for almost 4 months.

Tonight I'll lower the lights, light up some scented candles, put on the Barry White music and spend some quality time in the kitchen. Just me and my soup.

---
#37
Posted 25 March 2022 - 03:30 PM
Made some hamburgers cooked on lump charcoal, obnoxiously windy day be damned:

This post has been edited by MObreck: 25 March 2022 - 03:30 PM
---
#38
Posted 26 March 2022 - 01:46 AM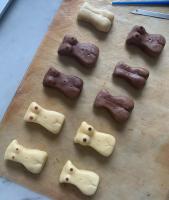 Butter cookies
https://www.reddit.c...tm_source=share
This post has been edited by Balls of Steel Forever: 26 March 2022 - 01:47 AM
---
Share this topic:
---
1 User(s) are reading this topic

0 members, 1 guests, 0 anonymous users